5 Overlooked Ways a Ransomware Attack Impacts a Company's Bottom Line
September 09, 2022
---
A successful ransomware attack is an expensive prospect for any business to face, even if they don't pay the ransom that cybercriminals demand. Unfortunately, many companies aren't prepared to face that cold reality. An estimated 83% of small businesses haven't put cash aside for dealing with a cyberattack. Even more alarming, one-quarter of SMB owners told researchers in an insurance industry survey said that they didn't even know that cyberattacks would cost their companies money. A company that falls victim to a ransomware attack will be paying big bills upfront to investigate the incident, mitigate the damage, and (hopefully) start the recovery process. But that's not all it will pay, nor will the whole cost be paid upfront.
---
See 10 reasons why Graphus is just better than other email security solutions. SEE THE LIST>>
---
5 Overlooked Ways That a Ransomware Attack Costs Businesses Money
---
These days it's no longer an "if" but a "when" for businesses that are considering their chance of suffering a cyberattack. While some expenses are very obvious, like demanded ransoms or regulatory penalties, some may fly under the radar like these five expensive results of a ransomware disaster.
1. Businesses experience a severe, ongoing operational impact
The operational impact of an attack can cost businesses a fortune all on its own without taking into account the expenses of incident response or any ransom paid. Lost productivity, delays in fulfilling customer requests, operational technology outages, production line shutdowns and more adverse outcomes of a ransomware attack can shut a company down, adding another layer of expense to the cake. Experts estimate that 25% of businesses that fall victim to a ransomware attack are forced to close temporarily due to the inability to operate. For many companies, any closure or loss of operational capacity, even for a few days is a major disaster. The average downtime from ransomware attacks increased from 15 days in Q1 2020 to 22 days in Q3 2021.
Downtime, outages, shutdowns and other operational snags are major contributors to the amount of loss that an organization suffers from a ransomware attack. The number of ransomware attacks that businesses face and the monetary cost of those attacks has been steadily rising, making a big jump between 2020 and 2021. In 2021, the U.S. Federal Bureau of Investigation Internet Crime Complaint Center (FBI IC3) received 3,729 complaints identified as ransomware in 2021, a whopping 51% increase over the 2474 recorded in 2020. Ransomware attacks also cost victims a lot more money than in previous years, with businesses experiencing estimated losses of more than $49.2 million in 2021, a 69% increase over the already hefty $29 million recorded in 2020.
---
Learn the secret to building a strong ransomware defense in Cracking the RANSOMWARE Code. GET BOOK>>
---
2. Ransomware damages a company's reputation
---
Businesses spend a great deal of time, money and ingenuity building a strong brand reputation over time. Unfortunately, much of that hard work can be undone in a flash by a cyberattack. Getting hit by a successful cyberattack like a ransomware attack or business email compromise scheme is highly damaging to the victim company's brand and reputation. A report by IBM and Forbes Insights found that 46% of organizations that experienced a cybersecurity breach suffered a major hit to their reputation, reducing their brand's value as a result.
That reputational damage impacts a company's business relationships too. According to a Ponemon report on third-party security, 63% of respondents stated that they rely on a company's good reputation when considering a business relationship, and that reliance on reputation is the most common reason that executives gave for not evaluating the privacy and cybersecurity practices of third parties. Just under 60% of respondents said that their organizations utilize contracts that legally obligate their prospective partner or service provider to adhere to responsible security and privacy practices. That typically means that no security evaluation was done on the other party in a business deal because the company in question had a positive reputation for maintaining security. But falling victim to just one cyberattack can ruin that reputation and destroy the trust that other businesses have in a company.
---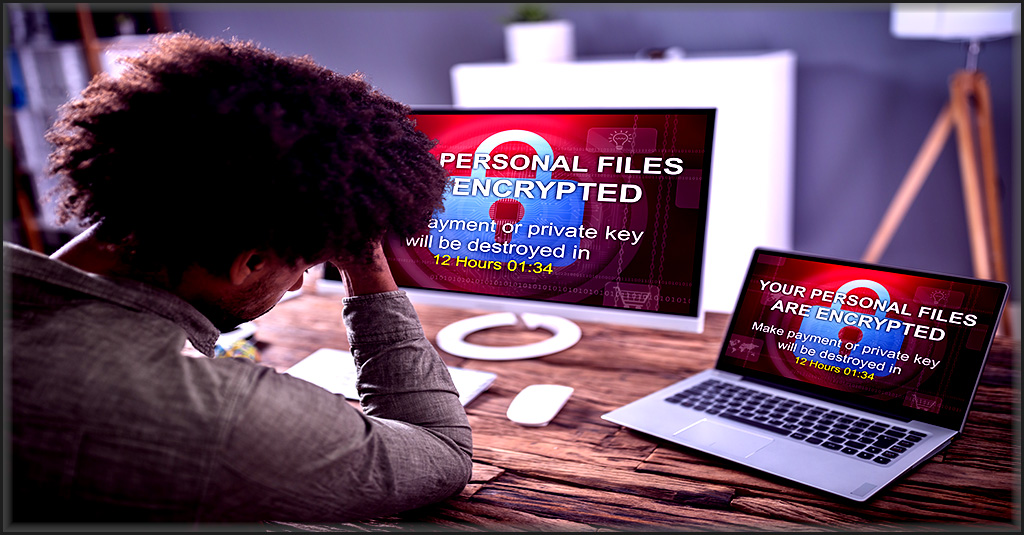 Are you ready to stop ransomware? Find out with our 5 Steps to Ransomware Readiness infographic! GET IT>>
---
3. Security failures impact consumer brand loyalty
---
Cyberattacks like ransomware also impact consumer confidence in a brand or company. Many consumers have become savvy about identity and data theft, making them very concerned about what companies do with their data. Most of them don't think companies try hard enough to protect their data. An estimated 64% of consumers believe that companies aren't doing enough to secure it. Consumers also do not tend to be forgiving of companies that can't protect their information. One in four Americans says that they will not do business with a company that has had a data breach or fallen victim to a cyberattack like ransomware. PricewaterhouseCoopers (PwC), an audit and assurance company that works in cybersecurity, reported that 69% of consumers surveyed believe that the companies they use are vulnerable to being hacked and attacked by cyber criminals. The same survey found that 87% of consumers are even willing to walk away and take their business elsewhere if, or when, a data breach occurs.
Which Cybersecurity Incidents Damage a Brand's Reputation?
By % of companies surveyed
| | |
| --- | --- |
| IT systems failure | 66% |
| Human error | 57% |
| IT security breach | 46% |
| Data loss from backup/restore failure | 39% |
| Natural or manmade disasters | 23% |
| Third-party security failure | 19% |
Source: Hitachi Vantara
---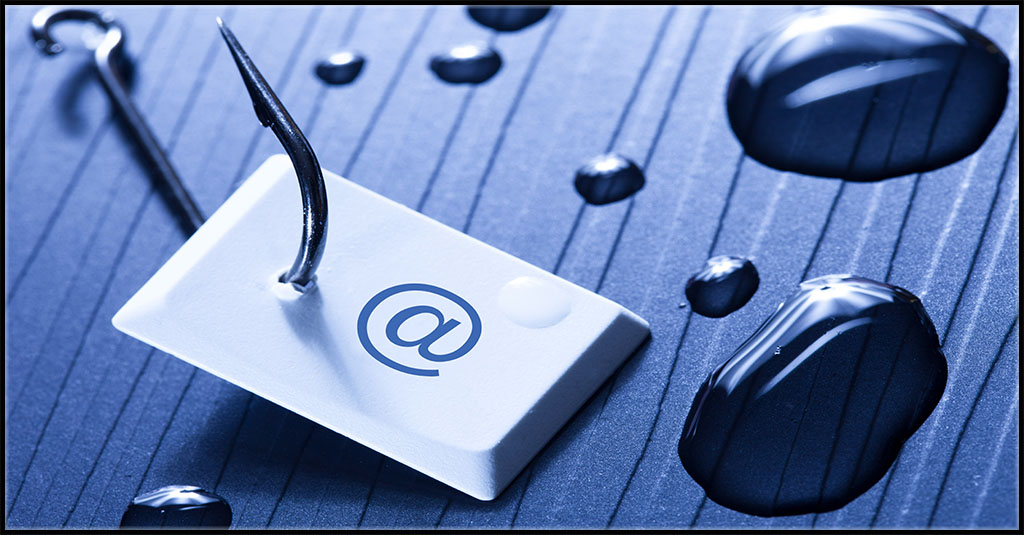 Learn the ins and outs of today's wide variety of phishing attacks & how to stop them in Phishing 101. DOWNLOAD IT>>
---
4. Ransomware damage ripples throughout the IT environment
---
Ransomware has a ripple effect throughout a company's entire IT infrastructure, leading to downstream damage. A ransomware infection bleeds out into many areas, including a few IT aspects that businesses may not take into consideration initially, but they'll have to deal with down the road. Storage systems and cloud-based data storage take the lion's share of that damage. Those two categories alone account for 79% of the IT environmental impact that organizations see after a successful ransomware attack. But several other key elements of a company's IT structure are also damaged in the wake of a ransomware disaster, resulting in unexpectedly high budgetary and operational damage.
Environments Impacted by a Ransomware Attack
| | |
| --- | --- |
| Storage systems | 40% |
| Cloud-based data | 39% |
| Networks/Connectivity | 37% |
| Key IT infrastructure | 36% |
| Data protection infrastructure | 36% |
Source: Hitachi Vantara
---
Learn how to add more hands to your security team without adding to your headcount. FREE EBOOK>>
---
5. Ransomware complicates incident response making it slow & expensive
---
It just takes longer to detect and contain a data breach that is caused by ransomware, and that extended timeframe is a financial disaster for a business that is trying to handle an attack. A data breach spawned by a ransomware attack takes businesses an average of 237 days to identify and 89 days to contain, adding up to a total lifecycle of 326 days. That lifecycle is 49 long, costly days or 16% longer than the 277-day lifecycle of an average breach. Within that timeframe, companies may experience severe operational impact or an inability to do business at all. Plus, the more time the bad guys have inside a company's environment, the more damage they can do up front and over time, especially if they use that extra time to give themselves a backdoor to use to return to an organization's environment.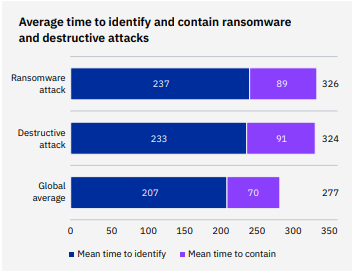 Source: IBM
---
Looking for a security rockstar? Get 5 superstar benefits at 1 low price! SEE THE BENEFITS>>
Looking for a security rockstar? Get 5 superstar benefits for half the cost of the competition! SEE THE BENEFITS>>
---
Don't Wait Until Your Email Security Delivers a Nasty Surprise to Upgrade to Graphus
---
In a recent survey, less than half of organizations ranked their current email security solutions as effective. That's a sure path to disaster. However, companies that choose Graphus can feel confident that they're protected from major sources of trouble by AI-enabled, automated email security that catches sophisticated phishing threats. They can also feel confident that they're getting a great deal – Graphus is only about half of the cost of the competition.     
These benefits make making the switch to Graphus an easy choice.
Forget old-fashioned safe sender lists. Graphus analyzes the content of messages using more than 50 points of comparison to suss out fakes fast.
Cloud-native security harnesses machine learning to inform AI using a patented algorithm.
Put 3 layers of protection between employees and dangerous email messages.
Don't waste time on fussy configurations or adding threat reports. AI does that for you, getting everything up and running with just a few clicks and minimal maintenance.
Click here to watch a video demo of Graphus now.
NEW INTEGRATION! If you're already using BullPhish ID for security and compliance awareness training and phishing simulations, you'll love our latest integration Advanced Phishing Simulations (Drop-A-Phish). This feature leverages the power of integration with Graphus to eliminate the need for domain whitelisting and ensure 100% campaign deliverability to end users when running phishing simulations. LEARN MORE>>
---
Stay safe from even the most sophisticated cyberattacks and social engineering scams
Put the powerful TrustGraph® AI of Graphus to work for your business, and in minutes you'll get a powerful, easy-to-use, and customizable EmployeeShield® against phishing attacks.
Get a Demo of Graphus
---