AI is a Cost Mitigation Superstar for a Data Breach
August 04, 2022
---
The cost of a data breach has never been higher, reaching $4.35 million this year, an increase of 2.6% from the 2021 cost of $4.2 million per incident, which was at the time the highest ever recorded in the 17 years of the study. It's also a look at how the data breach landscape is progressing and the way that risk has evolved over time. This represents a major jump in the cost of a breach in a two-year span, up 12.7% from 2020's $3.86 million, illustrating the constantly rising danger of a data security incident to businesses. But there is some good news. Organizations that have invested in AI and security automation enjoy a substantial cost savings in the event of a data breach.
---
Explore today's biggest threats & what's next in The State of Email Security 2022 GET IT>>
---
A Clear Picture of AI and Automation in Relation to Cost Savings Has Emerged
---
The IBM Cost of a Data Breach Report 2022 offers a snapshot of the real cost impact that companies realize from choosing automated, AI-enabled security tools. This is the fifth year that researchers have examined the impact of those technologies on the cost of a data breach. In the context of this report, security AI and automation refers to enabling security technologies that augment or replace human intervention in the identification and containment of incidents and intrusion attempts. Data about the performance and benefits of advanced technology is compared to data gathered from entities that rely on manual security processes only. Now that analysts have five full years of data, it's easy to see the stark differences between the impact of a data breach on organizations with and without AI and automation deployed.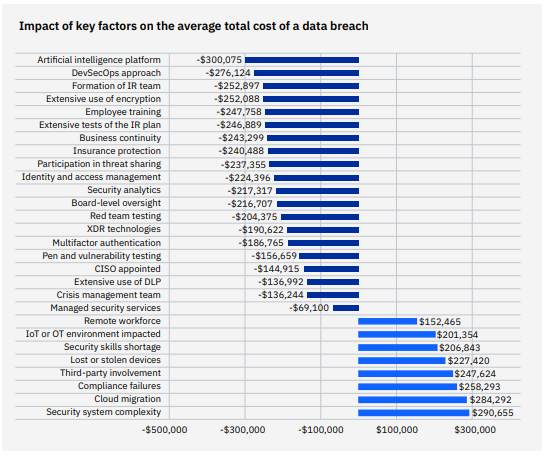 Source: IBM
---
Learn how incident response planning boosts cyber resilience & security. GET THE EBOOK>>
---
How Many Companies Are Using AI & Security Automation?
---
An increasingly large number of organizations every year are getting the message about the big advantages they'll gain from deploying AI-enabled and automated solutions. In the 2022 survey, the share of organizations with no security AI and automation deployed decreased from 35% in 2021 to 30% in 2022, down 5%. That percentage grows even more over a two-year span, down from 41% of organizations in 2020 without AI or security automation in place, a difference of 11 percentage points. The number of businesses that researchers classified as having fully or partially deployed security AI and automation in place increased by five percentage points, from 65% to 70%, between 2021 and 2022. The number of companies with fully deployed security AI and automation also increased, climbing by six percentage points, from 25% to 31% a gain of 10 points between 2021 and 2022. In a two-year comparison (2022 to 2020), the share of companies with fully deployed automation and AI increased from 21% to 31%.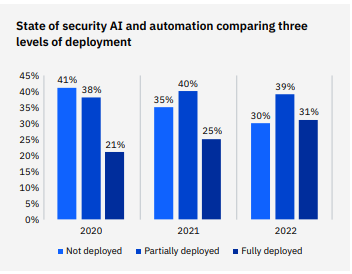 Source: IBM
---
See 10 reasons why Graphus is better than other email security solutions. SEE THE LIST>>
---
Security AI & Automation Lowers Breach Costs by 65%
---
Companies that have taken the plunge and transformed their security with automation and AI-powered tools save a substantial sum in the event that they have a data breach. Researchers determined that a data breach an organization that has fully deployed security AI and automation costs $3.05 million less than breaches at organizations with AI and automation deployed. That's a huge 65.2% difference in average breach. It also represents the largest cost savings in the study, definitively proving that AI and security automation are powerhouse technologies that businesses can look to as a tool to reduce costs even in the event of a damaging incident.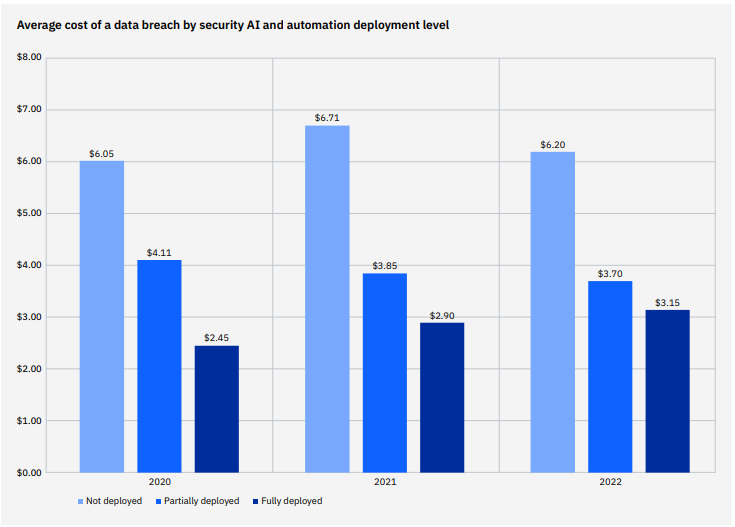 Source: IBM
---
Learn the secret to ransomware defense in Cracking the RANSOMWARE Code. GET BOOK>>
---
Security Automation & AI Also Lowers Breach Detection & Response Times
---
Another major benefit that organizations investing in AI and automation enjoy is a major reduction in the time that it takes to detect a data breach, an essential resource in the event of a data security disaster. Companies with fully deployed security AI and automation were able to detect and contain a breach much more quickly than organizations with no security AI and automation deployed. They also saved money on everything from investigation costs to lost productivity. Organizations with fully deployed security AI and automation took an average of 181 days to identify and 68 days to contain a data breach, for a total lifecycle of 249 days.
Compare that to the performance of companies with no security AI and automation. In those organizations, it took an average of 235 days to identify and 88 days to contain a breach, for a total lifecycle of a whopping 323 days. That's 74 long, expensive days more than in organizations with fully deployed security AI and automation. Even just a measure of AI and security automation deployment made a huge difference. The average time to identify and contain a breach in organizations with partial deployment was a total of 299 days, still 24 days better than the time to detect and mitigate a breach at companies not using security automation and AI technology.
Breach Response & Mitigation Times by Level of AI & Automation Deployment
| | |
| --- | --- |
| Level of AI & automation present | Days to detect & mitigate a breach |
| None | 323 |
| Low | 299 |
| High | 249 |
Source: IBM
---
AI is the secret weapon you're looking for to boost business email security. SEE WHY>>
---
Automation and AI Supercharge a Company's Defense Against Threats Like Phishing
---
In a recent survey, less than half of organizations ranked their current email security solutions as effective. That's a sure path to disaster. However, companies that choose Graphus can feel confident that they're protected from major sources of trouble by AI-enabled, automated email security that catches sophisticated phishing threats. They can also feel confident that they're getting a great deal – Graphus is only about half of the cost of the competition.   
These benefits make making the switch to Graphus an easy choice.
Forget old-fashioned safe sender lists. Graphus analyzes the content of messages using more than 50 points of comparison to suss out fakes fast.
Cloud-native security harnesses machine learning to inform AI using a patented algorithm.
Put 3 layers of protection between employees and dangerous email messages.
Don't waste time on fussy configurations or adding threat reports. AI does that for you, getting everything up and running with just a few clicks and minimal maintenance.
Click here to watch a video demo of Graphus now.
If you're already using BullPhish ID for security and compliance awareness training and phishing simulations, you'll love our latest integration Advanced Phishing Simulations (Drop-A-Phish). This feature leverages the power of integration with Graphus to eliminate the need for domain whitelisting and ensure 100% campaign deliverability to end users when running phishing simulations. LEARN MORE>>
---
Stay safe from even the most sophisticated cyberattacks and social engineering scams
Put the powerful TrustGraph® AI of Graphus to work for your business, and in minutes you'll get a powerful, easy-to-use, and customizable EmployeeShield® against phishing attacks.
Get a Demo of Graphus
---