7 Answers to Burning Questions About the State of the MSP
November 30, 2022
---
How healthy is the MSP business? What is an MSP's best bet for future growth? The Datto Global State of the MSP Report: Looking Ahead to 2023 offers a look at the answers to those questions and many more. By looking at the experiences, plans and goals of a cross-section of 1800 MSPs from around the world, we can gain insight into how the MSP business is evolving. The answers to these eight burning questions about the health and future of the MSP business can help MSPs plan their strategy for success next year.
---
Excerpted in part from Datto Global State of the MSP Report: Looking Ahead to 2023.
---
Is your email security solution really getting the job done? This checklist helps you find out! GET CHECKLIST>>
---
Is this a good time to be an MSP?
---
Nearly all respondents still believe it is a great time to be an MSP. An overwhelming majority of respondents (95%) said that they believe that now is a good time to be in the industry and that it will continue to grow – 82% expect revenue will increase over the next three years. Market sentiment is highly positive. There are also plenty of new MSPs entering the market. While more than half of respondents said they have been in business between six and 11 years, about a quarter reported that they're relative newcomers and have been in business for less than five years That's a good indicator that the business is healthy and attracting new entrepreneurs.
3 essential facts about today's MSP

Source: Datto
---
Get the guide that helps you detect & defeat dangerous BEC attacks to keep your company out of trouble! DOWNLOAD IT>>
---
What's the revenue outlook for MSPs?
---
The revenue picture is rosy. Revenue is climbing steadily for MSPs, even in today's turbulent economy, with three out of five MSPs indicating they'd experienced an increase in revenue in the past 12 months. Security is a strong growth driver, especially as cyberattack risk continues to rise. Diving deeper, just over one-third (36%) of respondents reported annual revenues between $1 million and $5 million, and another third (32%) said they had average annual revenue of less than $1M. Some MSPs are seeing very high revenue, with 8% of respondents saying that their annual revenue topped $10 million and 5% reporting annual revenue of over $20 million.
The revenue outlook for MSPs is rosy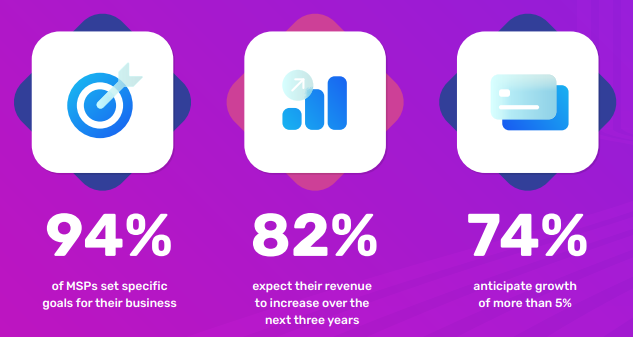 Source: Datto
---
See 10 reasons why Graphus is just better than other email security solutions. SEE THE LIST>>
---
What services are MSPs offering now?
---
MSPs offer their clients a wide variety of services, but there are a few services that are especially common. The shift to the cloud for SMBs is steady and ongoing. Most MSPs (83%) are helping their clients move into the cloud by offering cloud-based infrastructure design and management. Traditional MSP offerings of networking, Business Continuity and Disaster Recovery (BCDR) and technical support rounded out the top five services offered. The prominence of BCDR speaks to the volatile security climate and the need for businesses to ensure that they're prepared to recover from a cyberattack quickly.
The top 5 services MSPs offer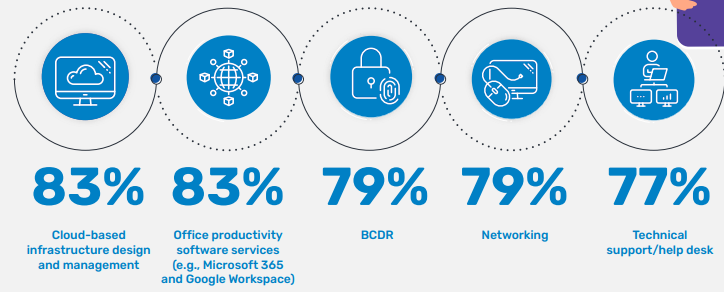 Source: Datto
---
Looking for a security rockstar? Get 5 superstar benefits for half the cost of the competition! SEE THE BENEFITS>>
---
Is break-fix really back?
---
Break-fix is back, but it's not the same as it was in the past. Revenue associated with managed security services seems to be shifting to break-fix across regions – this year's survey saw an 11% increase in break-fix revenue. Traditionally, break-fix reflected MSPs having flexibility built into their contracts to charge extra for projects that fall outside of their normal responsibilities. Now break-fix has morphed into a co-managed service offered by MSPs to help over-burdened IT departments in larger companies stay afloat. MSPs implementing the new break-fix for legacy clients that have not been converted over to managed services. However, MSPs are also planning to add other services to their offerings in the next year. About one-quarter of MSPs are planning to add services that can help their clients transition to a more cloud-based architecture, protect their data and improve their incident response.
Which services are MSPs adding in the next 12 months?
| | |
| --- | --- |
| Collaboration software | 26% |
| Storage design and implementation | 25% |
| Incident response and forensics | 24% |
| Business intelligence or analytics software or services | 23% |
| Endpoint threat detection and response | 23% |
Source: Datto
---
Learn how incident response planning boosts cyber resilience & security. GET THE EBOOK>>
---
What managed security solutions have had the biggest positive business impact?
---
Ransomware and email security have dominated the security conversation for the last few years and that's reflected in the top security offerings for many MSPs. The top managed security service currently offered is email security. Many MSPs have added tools that not only address issues after an attack but, more importantly, help monitor networks to mitigate their risk. A third of respondents in all markets believe that security solutions present new business opportunities and MSPs are taking advantage of that.
The top 8 security solutions MSPs offer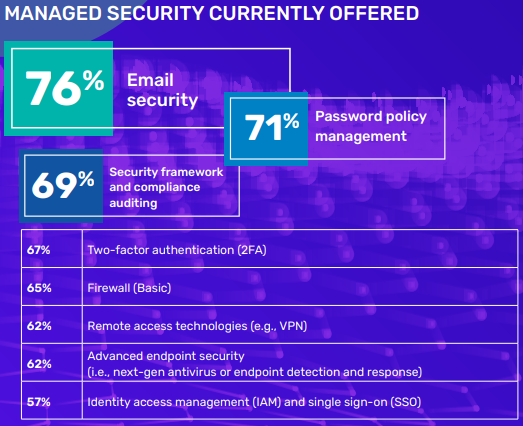 Source: Datto
---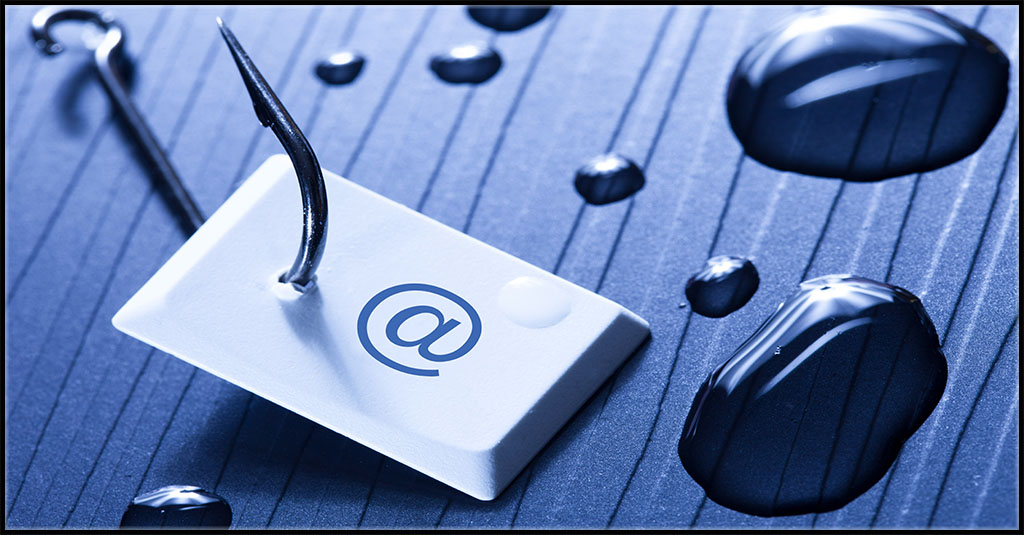 Learn the ins and outs of today's wide variety of phishing attacks & how to stop them in Phishing 101. DOWNLOAD IT>>
---
What security solutions will MSPs be adding in the next year?
---
MSPs know that security is a growth area that can juice up their revenue fast. A third of respondents in all markets still believe security solutions continue to present new business opportunities. It's also a constantly changing and dangerous landscape, and with the rapid growth of existential threats like ransomware for businesses, clients will be looking to MSPs for help navigating it safely. MSPs are responding to that call by adding new security solutions to their arsenal. More than one-quarter of MSPs plan to add at least one new security solution in the next twelve months. Managed detection and response (MDR), dark web monitoring and privileged access management are the top three contenders.
What security services will MSPs be adding next year?
Source: Datto
---
Follow the path business takes to a ransomware disaster in The Ransomware Road to Ruin. DOWNLOAD IT NOW>>
---
What are the biggest challenges MSPs face?
---
For the second year in a row, respondents said that competition is their top challenge (29%). This isn't particularly surprising as the MSP space continues to grow, and the landscape becomes more competitive. However, even in the face of that, MSPs are confident that their revenue will grow next year. However, that growth could be limited by sales and marketing challenges. Specifically, MSPs have trouble finding the optimal tools, time and strategy to deliver high-quality leads. That's especially problematic in today's market. More SMBs will be seeking out technology services from MSPs as the world continues its digital transformation. Additional regulations around information security will drive clients to MSPs for compliance help. The need for stronger defenses in the face of surging cybercrime will also spur SMBs to look to MSPs and MSSPs for specialized help.
The 5 biggest challenges for MSPs

Source: Datto
---
Graphus gives businesses next-level email security
---
Graphus is the world's first automated phishing defense platform that protects organizations from even the most sophisticated email-borne attacks. Leveraging its patented AI technology, Graphus automatically detects phishing emails, putting three layers of defense between a phishing email and your organization. Graphus automatically monitors communication patterns between people, devices and networks to reveal untrustworthy emails, making it a simple, powerful and cost-effective automated phishing defense solution for companies of all sizes.
Here are some of the features that make Graphus the best email security solution:
Block sophisticated phishing messages from reaching employees  
Put three layers of protection between employees and phishing email messages
Seamlessly deploys to Microsoft 365 and Google Workspace via API, without big downloads or lengthy installs
Provide intuitive administration and precise reporting to help you gain insights into the effectiveness of your security, level of risks, attack types and more
Book of demo of Graphus to start your email security journey.
---
Stay safe from even the most sophisticated cyberattacks and social engineering scams
Put the powerful TrustGraph® AI of Graphus to work for your business, and in minutes you'll get a powerful, easy-to-use, and customizable EmployeeShield® against phishing attacks.
Get a Demo of Graphus
---